SwiftWater Kit 2022
Kit includes these 12 components: 
NRS Extreme SAR Dry Suit
2022 NRS Rapid Rescuer PFD
2022 NRS Men's Expedition Weight Union Suit
NRS Havoc Livery Helmet
NRS Tactical Gloves
NRS Workboot Wetshoes
NRS Universal Fins
NRS Co-Pilot Knife
NRS Tow Tether with Carabiner
NRS Purest Mesh Duffel Bag
Fox 40 Safety Whistle
Princeton Tec Meridian LED Strobe Light
NRS Extreme SAR Dry Suit
Now there is a drysuit that works as hard as you do. Get the job done with the NRS Extreme SAR.
Designed specifically for our hardworking rescue customers, the breathable, waterproof, 400 denier TriTon fabric will hold up to years of abuse.
Super tough Cordura exterior material reinforces seat, elbows and knees for rugged protection in high wear areas.
Neoprene padding in the elbows and knees provide extra protection while working in the field.
Attached latex socks provide an extremely dry suit.
With the help of the internal suspenders, you can comfortably wear the top of the suit down around your waist while away from the water.
A self draining thigh pocket and a splash proof arm pocket keep all the essentials close at hand.
Heavy duty YKK waterproof relief zipper for men lets you answer the call of nature without having to take the whole suit off.
Heavy duty YKK waterproof entry zipper seals out water.
Liquid neoprene coated latex gaskets are more durable than standard gaskets providing a long lasting, waterproof seal.
Neoprene outer cuffs with adjustable hook and loop closures on the neck, wrist and ankles protect the latex gaskets.
Reflective material on the wrists and piping help visibility in low light and foggy conditions.
Pull cord waist adjustment allows for a more custom fit.
NRS Rapid Rescuer PFD
Type V PFD. 22 lbs of flotation, adjustability to fit chest sizes from 30 to 58 inches, and all the features you will ever need in a rescue vest. The NRS Rapid Rescuer can handle any situation.
With box-stitched stress points, reinforced shoulder straps and a 500-denier Cordura® shell, the NRS Rapid Rescuer is tough enough to handle any situation.
Two huge front pockets stretch to hold anything from a GPS to a VHF. Quick release buckles with adjustable nylon webbing secure the pockets shut.
Quick-release rescue belt, with stainless steel ring, for "live bait" and other swiftwater rescue techniques.
Three lash tabs on the front are great for a knife, whistle or anything else you need to keep handy.
On the back there's an additional lash tab for a strobe, and a chem-light holder, for visibility in low light and night operations.
Long strips of reflective tape on the front and back of the jacket increase visibility.
Webbing loops for leg straps add extra security in big water. (Leg Straps sold separately).
Universal Plus sizing will fit chest sizes between 30 and 58 inches, with 8 adjustment points to ensure a secure fit.
This jacket carries the US Coast Guard Certification, through testing by Underwriters Laboratories (UL).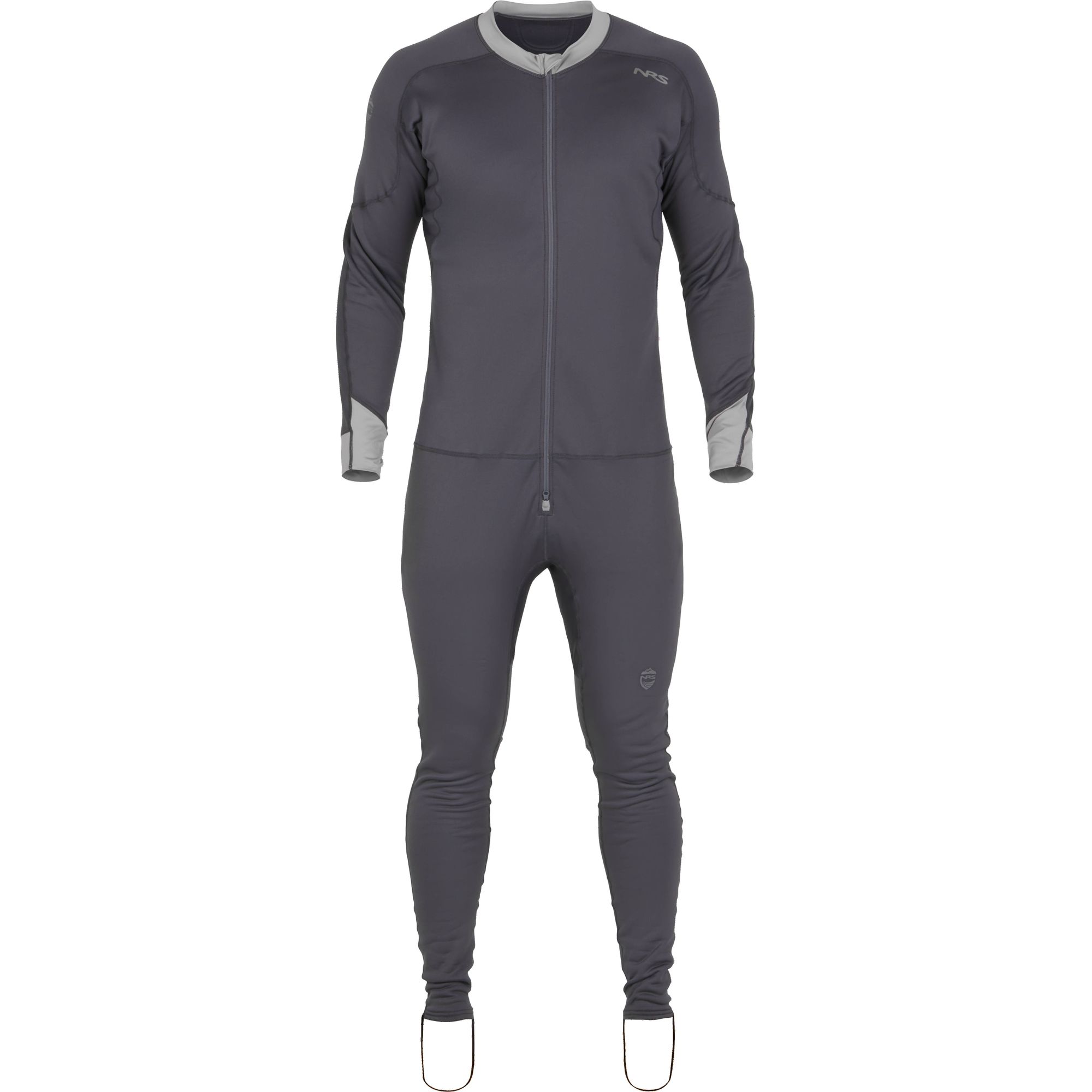 2022 NRS Men's Expedition Weight Union Suit
When the conditions call for maximum insulation, the NRS Men's Expedition Weight Union Suit delivers the most advanced thermal layer. Cozy, yet breathable, with a paddling-specific design for unrestricted mobility even under a drysuit.
Built from 100% recycled material, the high-stretch poly/spandex fleece delivers outstanding warmth and breathability.
Designed to sustain many seasons of wear, the 4-way stretch fabric holds its original shape while anti-pill properties guarantee the fleece stays soft and cozy.
YKK, double-pull, front entry zipper with an interior fabric flap for against-the-skin comfort.
Our seam placement avoids high-friction zones, enhancing athletic performance and layering comfort.
Stirrups keep legs from riding up and gasket-friendly cuffs create an easier layering experience under a drysuit.
Form fitting for athletic comfort and easy layering.
UPF 50+
NRS Havoc Livery Helmet
The NRS Havoc Helmet is your one size fits most solution to whitewater safety. Our DialFit system lets you quickly and easily adjust the fit to accommodate almost any head size.
Protect nearly any adult with the same helmet. No more mixing and matching.
The ratchet adjust DialFit system lets you custom fit the Havoc with the simple twist of a knob.
Fits a range from 53cm to 62cm (20.86 inch to 24.4 inch).
An adjustable chin strap ensures comfort and security.
Plush FIT pads in key contact points provide extra comfort.
FIT pads are fixed, so they won't get lost. If damaged, they are easy to replace.
Ten ventilation/drainage ports let air in and water out.
ABS plastic shell is lightweight and durable.
The glued in EVA foam liner offers excellent impact protection.
Ear Coverage: No
Meets CE 1385 standards for whitewater safety.
NRS Tactical Gloves
With the perfect combination of durability, warmth and paddle feel, NRS Tactical Gloves live up to the demands of the task at hand, whether for rescue work or for play.
2 mm Terraprene™ neoprene provides excellent warmth for cool to cold conditions.
Rubberized Amara® synthetic leather armor patches on the palm and fingers provide unmatched protection and grip for paddling, rowing and rope handling.
Soft brushed fleece on the thumb and wrist is handy for wiping your nose or brow.
The unique elastic wrist strap secures anywhere on the fleece wrist panel.
Rubber bite tab on the wrist assists donning the glove, even when hands are wet.
Pairing snaps on the wrists help keep the gloves together.
NRS Workboot Wetshoe
Used by river professionals, rescue agencies and Navy SEALS, the NRS Workboot Wetshoe is the hardest working river boot on the market today.
Lace up synthetic leather and 5 mm neoprene upper provides warmth, unmatched ankle support and a secure fit.
7 mm neoprene insole absorbs the shock of every step.
Heavy duty lugged traction sole keeps you on your feet in varied terrain. It is a marking sole.
Wear areas are reinforced with synthetic leather and rubber.
When you need a water shoe that works as hard as you do, on and off the water, the NRS Workboot is your best choice.
Whole sizes only.
Women order one size smaller.
1/2 sizes order one size larger.
NRS Universal Fins
Designed to meet the demands of swiftwater rescue professionals, the NRS Universal Swim Fins also work well for riverboarding and general river snorkeling.
These rigid fins are symmetrical so they fit either foot.
The wide heel strap is adjustable with a quick tug of the strap end, then you can unclip the strap and your adjustment stays put.
The toe piece has a removable rigid insert that lets you select the stiffness you desire.
The fins will fit over your river boots, just step in, click in the heel strap and you're ready to go!
Dimensions: 20 inch L x 9 inch W
Weight: 3.4 lbs
Adjustable heel strap
Removable rigid toe piece insert
NRS Co-Pilot Knife
The NRS Co Pilot. Great features, smooth and serrated cutting edges, blunt safety tip, bottle opener, etc. Compact design is a fine fit on your PFD.
For all of your cutting needs the Co Pilot has both super sharp smooth and serrated sections.
The blunt tip design protects against unintentional puncture of your gear or yourself. Also doubles as a flat head screwdriver.
The unique sheath firmly locks the knife in place and only lets it go when you squeeze both sides of the release.
The contoured handle and rubberized grip gives you maximum control of the blade.
The sheath clip attaches firmly to a PFD lash tab.
Also included in the handle are a bottle opener and an oxygen tank valve wrench.
NRS  Tow Tether
This strong tether with a built in bungee is used with the quick release harnesses on rescue PFDs. The tether enhances towing performance in rescue situations. The stainless O ring includes a hook patch of hook and loop material that facilitates centering of the O ring on vests that have the loop material sewn on in the back. It also has a hook patch on the carabiner end. This mates with a loop piece available on some rescue PFDs, forming a quick release holder for the carabiner.
Long Tether 53: 33 inch (Stretches to 53 inches)
Add 6 inches to Length for Carabiner and O ring
NRS River Rescue Duffel Bag
Organize your river hardware into one convenient duffel with the NRS River Rescue Duffel. This capable bag was designed with the rescue professional in mind while addressing the needs of the larger boating community.
600 denier polyester material is strong enough to support a load of carabiners, pulleys and rope.
Convenient zippered duffel provides quick access to rescue gear.
The three inch side compartment makes for easy organization of smaller gear.
Sturdy carry handle and shoulder strap for easy carrying.
3M reflective tape on webbing makes the bag easy to find in low light situations.
The size, measured fully packed is 16 inch D x 30 inch L, 6005 cu. in. volume.
16 inch diameter x 30 inch long, 6005 cu. in.
Fox 40 Safety Whistle
Sometimes, the only way to be rescued is to be heard. These whistles are invaluable for signaling rescuers. Boat safely and carry the necessary equipment. Comes with split ring.
Size: 2.25 inch L x .75 inch W
Princeton Tec Meridian Strobe Light
Compact and bright, the Princeton Tec Meridian Strobe lets you pick a white or red flashing light that can be seen for over a mile. Waterproof down to 328 feet (100 m).Dependable safety equipment for boaters, skiers, hikers and other outdoor enthusiasts.
Mount the Meridian on a lash tab, PFD shoulder strap or diving harness with the included attachment strap.
The large toggle switch lets you easily choose white or red strobe.
Contains one white MaxBright LED and one red MaxBright LED.
LEDs send out 100 lumens of light and give you a max burn time of 100 hours on three AAA alkaline batteries (included).